Kindle Fire Contest by Performance Acura
Are you ready to win a kindle

fire

? Do you want to know how easy it is to win? Well here it is!!
Performance Acura presents: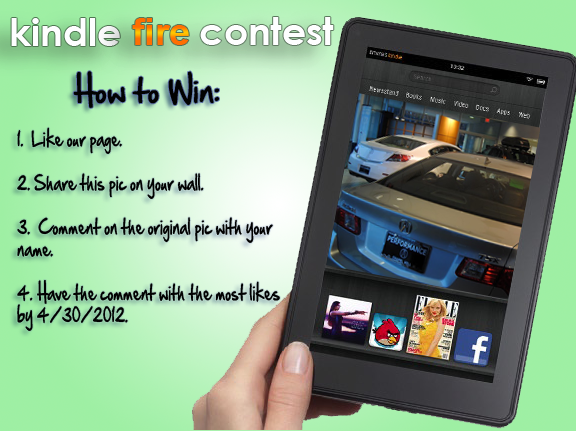 Here are the rules.
Kindle Fire Contest!!!



This contest is simple?

Step 1: Like the Performance Acura page.

Step 2: Share this picture on your wall

Step 3: Write your name as a comment under the picture. (The first two comments are for example)

Step 4: Get as many of your friends to like your comment! By any means necessary!!! Share the photo with everyone and get them to like your name under the comments list

Step 5: Whoever has the most likes by April 30th wins a KINDLE FIRE!!!

Simple as that! There is no catch! And no, this is not a joke!

A few rules:

1. Must be 18 and older to win.

2. Send a picture of you with your Kindle fire when you get it and give Performance Acura permission to post it on our page!

3. No cash value.

4. You may only write your name as a comment on the photo 1 time.

5. No Performance Automall employees or relatives are eligible to win.

6. All entries must be Facebook fans of Performance Acura. If you are not a fan of Performance Acura, your comment will be removed.

7. You must share this photo on your wall or you will be disqualified.

Contest Ends: 4/30/12
Winner announced on our Facebook page: 5/1/12

LIKE AWAY!!
**
Make sure that you like the page and share the photo or your entry is invalid!!!